Hydrangea bouquets - Delivery in Bangkok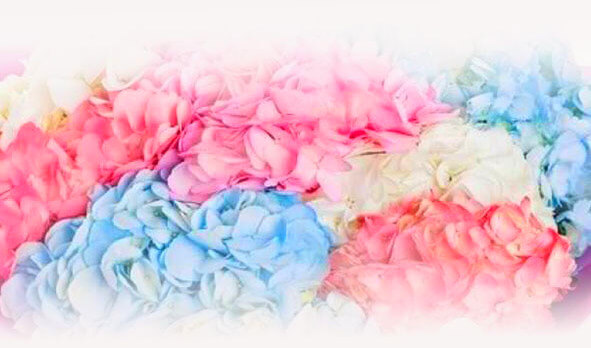 Fresh Hydrangea bouquets – Flower Dewlivery Bangkok
Hydrangea is a beautiful and delicate plant that is widely used to create mono bouquets and flower arrangements. In both versions, these flowers look very festive and give the recipient a charge of positive and good mood.
Hydrangea in the language of flowers
For several centuries, hydrangea flowers have been a symbol of purity, modesty, faithful love and grace. Hydrangea inflorescences are moderately bright and this is an important advantage of these flowers. Their beauty is not flashy, but gentle and light. Hydrangea bouquets are not as popular as rose bouquets. However, the beauty of these flowers and their positive energy are very warmly perceived by recipients of hydrangea bouquets. With the help of a hydrangea bouquet, you can show your sincere friendship and pure love, devotion and absolute loyalty.
Features of hydrangea bouquets
angea inflorescences go well with other flowers in bouquets. These flowers look especially harmonious with a small number of roses. Our florists in Bangkok usually add a few white roses to a hydrangea bouquet. Such roses do not distract attention and it is these flowers that have a similar meaning in the language of flowers. And you can give a bouquet of hydrangeas for any occasion. It can be a gift for any special events in the life of a person important to you (birthday or anniversary, engagement or wedding), or a completely unexpected sign of attention for your beloved girl. Also, a bouquet of hydrangea can be chosen as a gift a first date or another anniversary of acquaintance.
Our florists most often use white or pale pink hydrangeas in bouquets, as well as the popular Bouquet Rose variety with pink, lilac and bright blue inflorescences. Hydrangea bouquet care is very simple. In order for the flowers to remain fresh and delight the owner for about two weeks, it is necessary to change the water in the vase every day and cut the stems a little. Same day flower delivery in Bangkok is possible for hydrangea bouquets when ordering from our flower shop before 2 pm. Each bouquet includes the cost of a greeting card with your name and a short message. You can add this information during checkout.