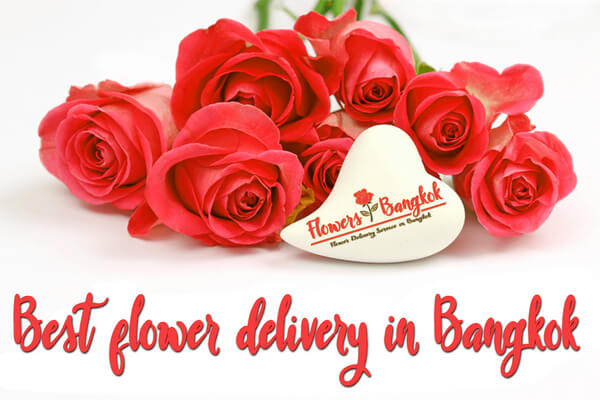 Becoming the best flower delivery service in Bangkok is the main goal of Flowers-Bangkok flower shop. This is a very ambitious and difficult task, but we are moving step by step in the right direction towards this goal, and we are confident that sooner or later we will get the desired result. To become the best flower delivery in Bangkok, Flowers-Bangkok must provide the best customer service. This means that we must offer the best assortment of bouquets, guarantee high quality and freshness of flowers, guarantee timely delivery of bouquets to any area of ​​Bangkok at a convenient time for the customer. And, of course, we must offer our customers low prices and a loyalty program for regular customers.
The best assortment of bouquets
Our flower shop offers dozens of different bouquets for delivery in Bangkok. Whether you want to deliver flowers to your loved ones, relatives, colleagues, friends or thai celebrities. Flowers Bangkok offers you a choice of premium roses of red, white, orange, yellow and several shades of pink. Of course, the best delivery in Bangkok should provide you with a choice of bouquets of mixed roses of different shades. And we provide this opportunity to our clients. In addition to the ready-made bouquets that you can see in our store, you can always contact our support service and order a bouquet of any number of roses of any color or any combination of several types of roses in one bouquet.
In addition to roses, we offer to deliver bouquets of gerberas, sunflowers, hydrangeas and other flowers to Bangkok and the nearest provinces. As in the case of roses, upon prior request, we can create a bouquet of any available flowers in any combination. If you have already visited the Gallery page, then you could see that our florists have a rich imagination and even in the case when you order a bouquet of the same flowers several times in a row, the design of the bouquet can be different each time. This allows you to surprise and delight the recipient of your bouquet every time. In addition, you always have the opportunity to offer us your design option that you found on the Internet or in another flower shop at a higher price. We do not stop there and every month we expand our range of bouquets in the shop window.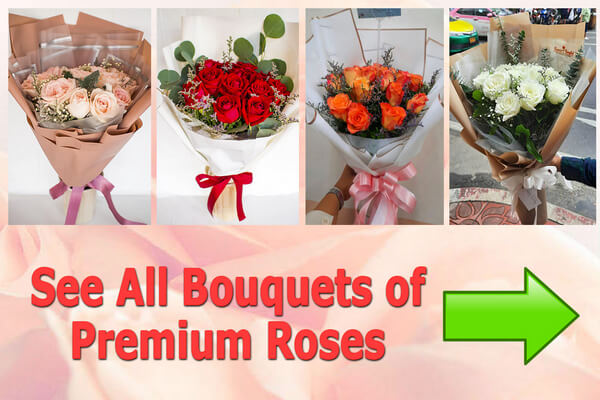 Fresh and beautiful flowers for the best flower delivery in Bangkok
We provide this characteristic of the best flower delivery in Bangkok quite easily. We do not create bouquets in advance in the hope that someone will order it for delivery. Each bouquet is made only after confirmation of the order and payment for a specific recipient. As a result, our bouquets are always fresh and will delight recipients for a longer time. We have repeatedly mentioned that we create most of our bouquets from premium roses. Long-term cooperation with local farmers and the first wholesale suppliers of imported flowers allows us to obtain the best flowers. And the fact that our flower shop in Bangkok simultaneously sells small wholesale quantities of flowers allows us to choose from the best flowers the best ones directly to create the best bouquets.
Timely delivery of bouquets in Bangkok
Even in the process of placing an order, each of our clients has the opportunity to choose not only the day of delivery of the bouquet, but also the optimal time for this. You can specify the best part of the day for delivery (morning, afternoon or evening) or specify a better time interval (for example, from 4 pm to 5 pm). Of course, if you order a bouquet with delivery on the same day, and it's already lunchtime in Bangkok, then the choice of delivery time for natural reasons narrows, but in any case, we will create and deliver your bouquet to the recipient as quickly as possible.
An exception is Valentine's Day (February 14), when, due to the large number of orders, we cannot guarantee a specific delivery time, because our florists and couriers work without rest from early morning until late evening. The advantage of our flower shop is that we do not charge additional shipping charges in Bangkok, and delivery to the suburbs and some neighboring provinces is carried out at a minimal additional cost. On the Delivery page, you will find complete information about free and paid flower delivery zones in Bangkok and neighboring provinces.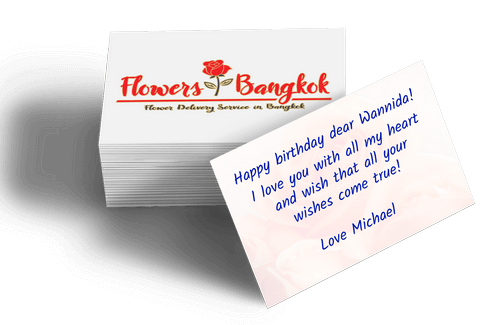 The best flower delivery in Bangkok – at the best prices
Even very wealthy people prefer to buy goods and order services at affordable and reasonable prices. Therefore, our flower shop offers the best value for money in the field of flower delivery in Bangkok. Our numerous market studies and reviews from our clients confirm that our bouquets are truly the best deal in town. Especially considering the size of our bouquets, because we use premium roses with large buds and long stems to create them and add a large amount of seasonal green filler. While a number of other stores offer small bouquets of medium and small short-stemmed roses at a similar or higher price.
Also, we do not charge additional fees for a hand-signed branded greeting card with your message. You can add such a message during checkout using a special line. Separately, we would like to note our loyalty program for regular customers. Already during the second and subsequent orders, you can use a special coupon code. Enter it on the Cart or Checkout page and get a 6% discount on all bouquets of our flower shop. In addition, all our clients receive a special coupon code before Valentine's Day and have the opportunity to order a bouquet 20% cheaper than new clients.
Thus, we aim to be 100% the best flower delivery in Bangkok and we have every chance of doing so in the future. We never stop developing and improving our service at every stage: from the usability of our website to the moment we receive a report on the successful delivery of a bouquet by our customers. But the most important thing is that we have already become the best flower delivery in Bangkok for dozens of our customers and their number is increasing every day! Thank you for your trust!