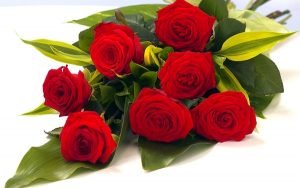 Flower delivery in Bangkok to Sukhumvit Rd area is a very popular service. Sukhumvit is the longest street in Thailand and begins in the center of Bangkok. Sukhumvit is often called the main shopping area of ​​the capital of Thailand and there is every reason for this. This is the area of ​​hotels, restaurants, nightclubs, shops and shopping centers. The popularity of flower delivery in Bangkok Sukhumvit is also due to the large number of foreigners who not only live in this area of ​​the city, but also work in numerous offices of modern buildings, which every year more and more on both sides of Sukhumvit Rd.
Features flower delivery to Bangkok Sukhumvit Rd.
Nightlife in the area of ​​Sukhumvit Rd is also very active, so at any time of the day there may be traffic problems here. However, due to the fact that there is a branch of BTS Skytrain above this busy highway, flower delivery Bangkok Sukhumvit usually happens very quickly. The speed of fulfillment of orders for the delivery of bouquets to the area of ​​Sukhumvit Street can also be explained by the fact that it is in the area of ​​this street that our professional florists work who, based on your wishes, create the best gift bouquets from fresh flowers.
Also close to Sukhumvit there are large shopping centers and specialty stores where our couriers can always buy fresh chocolate and sweets from famous world brands. These delicious gifts, which you can find in the Gifts section of our store, are an excellent addition to bouquets of flowers and are not superfluous even when ordering delivery of the most beautiful and expensive flowers in Bangkok. Sweet gifts are popular both when delivering flowers to their home address and when delivering to offices. In the latter case, the recipient of the bouquet can treat his colleagues and friends with chocolates.
Discount coupons for delivering flowers to Bangkok Sukhumvit Rd
We try to make delivery of flowers to the Sukhumvit street area as quickly as possible, because the processing time of the order and delivery is reduced due to the above facts. Currently, a special promotion is held in our store, which allows our customers to save on delivery of flower bouquets and gifts if the delivery address is located in the area of Sukhumvit Street in Bangkok. To do this, we suggest you use special discount coupons:

---
"SUKHUMVIT100"
Please use this coupon only when ordering flowers in Bangkok with delivery to the Sukhumvit Rd area. The minimum amount to use this coupon is 1,300 THB. The maximum amount to use is 2000 THB. If the amount of your cart is higher, you can use more favorable coupons in our store.
---
"SUKHUMVIT200"
Please use this coupon only when ordering flowers in Bangkok with delivery to the Sukhumvit Rd area. The minimum amount to use this coupon is 2001 THB. The coupon is valid only when ordering flowers in Flowers-Bangkok.com
[su_quote]Dear Customers! Due to the relocation of our flower shop to another area in Bangkok, coupon codes SUKHUMVIT100 and SUKHUMVIT200 are no longer active. Please use the coupon codes you received by email after your successful orders or coupon codes for new customers.[/su_quote]
---
"PERSONAL COUPON"
Also in our store you will receive individual disposable coupons after each successful execution of your order. The personal coupon code will be sent to your email no later than 3 days after the bouquet is delivered to Bangkok. Please note that personal coupons and discount coupons for delivering flowers Bangkok Sukhumvit can not be used together (you can use only one coupon for each new order).
---
As is the case with other addresses in Bangkok, we recommend that you order the delivery of Bangkok Sukhumvit flowers for Mother's Day or February 14 in advance due to the large number of orders and the seasonal increase in prices for flowers and courier services on specified days. Detailed information on flower delivery in Bangkok on Valentine's Day on February 14 – on a separate page of our online flower shop in Bangkok – Flower Delivery Bangkok February 14.
Thus, if you want to give someone a bouquet of flowers in Bangkok for a birthday, professional holiday, anniversary, or you just want to give a good mood to your loved ones, you can always contact the Flowers-Bangkoik.com online store. And if the recipient of a bouquet or a sweet gift lives or works in the Sukhumvit area of ​​Bangkok, the flower delivery for you will not only be as fast as possible, but also profitable – by using special discount coupons, which will make the cost of delivering flowers even lower. Looking forward to your orders!