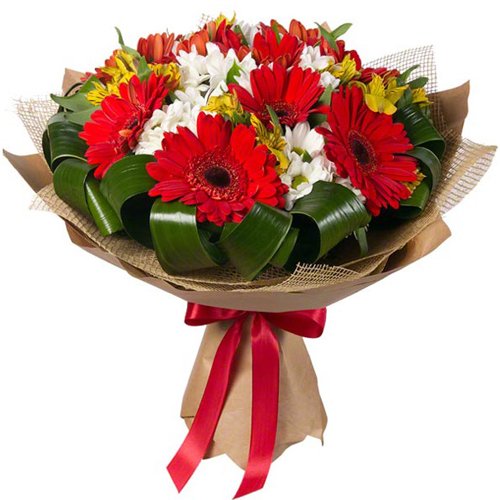 The luxurious bouquet of flowers that you can order online in our flower shop in Bangkok is always a relevant and appropriate gift for any holiday. In addition, flowers are one of the most versatile ways of expressing feelings. Today in all major cities of the world there is an opportunity to purchase a bouquet of flowers in street shops. Bangkok is no exception. However, more and more people prefer to order flowers at online flower shops. And there are several important reasons for this at once.
Ordering flowers when you are not in Bangkok
When we talk about Thailand and the city of Bangkok, where our flower shop is located, one of the most important reasons is the ability to order from any country in the world. Most of our clients are foreigners who are temporarily or permanently not in Thailand or in Bangkok. They want to give a beautiful bouquet of flowers to their girlfriends, wives or business partners, but they cannot do it on their own. Therefore, an online flower shop for them is an ideal option that allows you to make a good gift without any problems. Our professional florists will make a beautiful bouquet of those flowers that the customer wants, and our couriers will deliver the bouquet to the right address at the right time.
Time saving
Among our clients there are business people who value their time very much and cannot afford to spend time looking for a flower shop in Bangkok. In the morning and evening hours, the traffic situation on the streets of the Thai capital is very tense and a trip for flowers to the store can result in a loss of several hours in traffic congestion. In addition, in Bangkok, there are often no parking spaces near flower shops, which also creates big problems. Of course, it is very nice to give flowers to loved ones personally in hand. But self-delivery of a bouquet is also complicated by the traffic situation and the size of such a metropolis as Bangkok. When you use our online flower shop in Bangkok, you can order an exclusive bouquet in just a few minutes. And you can do this at any time of the day and any day of the week.
Free flower delivery from Flower Shop
When you place an order for flowers in the Flowers-Bangkok.com store, you can specify the day of delivery of the bouquet. It can be your girlfriend's birthday, the anniversary of your first dating, a holiday or any other occasion. If we confirm the order and accept the payment, you can be sure that the bouquet will be delivered on the right day to the right address. And if you want to give flowers yourself, we will deliver you a bouquet at your home or work address in Bangkok. You can read more about flower delivery in Bangkok on a separate page.
Preservation of freshness of flowers
Thailand is a country with a very hot climate, and the city of Bangkok, due to the large number of transport and dense urban development, is a particularly hot place in Thailand. Therefore, it is very difficult to maintain the freshness of the flowers until delivery moment. Our experienced florists use special packaging and materials so that during the delivery process the flowers do not lose freshness and look great. And our couriers in 90% of cases deliver on air-conditioned vehicles or special containers that protect flowers from hot air. We never use ready-made bouquets: our florists make a bouquet immediately before delivery on an individual order.
Large choice of flower bouquets.
Flowers-Bangkok.com online flower shop window contains a large number of variations of luxurious flower bouquets. However, this does not mean that we limit your choice only to those options that you can see. We are always flexible and ready to fulfill all your desires. If you not trust the taste of our florists, you can specify the color of the gift film or paper, change the number of roses or gerberas in the bouquet, choose the shade of flowers and so on. And if you have any questions, the managers of Flowers-Bangkok.com will promptly answer all your questions by e-mail or using instant messengers.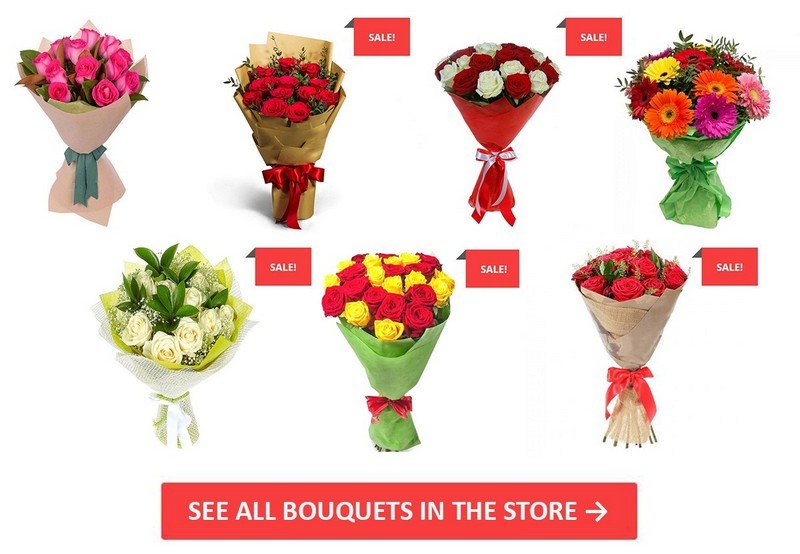 Extended service of Flower shop in Bangkok
Unlike classic flower shops, in our online flower shop in Bangkok you can order not only flowers, but also special gifts. Chocolates of famous brands are most popular as an additional gift. Most girls and women, even if they carefully monitor their figure, will be happy to receive such a delicious gift. We also offer the opportunity to order large soft toys that many Thai girls value even more than a classic bouquet of flowers. Teddy bears are up to 140 cm (55 inches) in size and, unlike flowers, this gift will remind her very long time about a person who presented it.
Confidentiality and the opportunity to make a surprise
There are situations when you want to give flowers to a girl or a woman, but at the same time keep your identity a secret. Our online flower shop in Bangkok will allow you to do this without any problems. Our couriers and florists do not have access to information about the customer of the bouquet, so even if they wish, they cannot disclose such information to the recipient. And when you want to make a surprise, our courier will contact the recipient only during delivery to clarify the delivery time. At the same time, we can keep secret information about what will be delivered and a luxurious bouquet of flowers from you will become a real surprise.
Card with name and wishes
If you are not sure that the recipient of the bouquet of flowers will guess that it was you who ordered the bouquet of flowers in Bangkok, we suggest using our free service and adding a small card with your name and wishes to the bouquet of flowers. Some bouquets of flowers can have several meanings. And if you want the recipient to correctly understand your feelings of love, respect, gratitude, etc. – you can always express them in words.
Loyalty program of our Flower shop in Bangkok
We value all our customers and offer to use special discount coupons for the online flower shop in Bangkok. We offer a discount on the first order of flowers, on the delivery of a bouquet in the central areas of Bangkok, on the second order, on the preliminary order of flowers before mass holidays and some individual coupons for regular customers. Thus, you get the opportunity not only to order magnificent bouquets of flowers in Bangkok at the lowest prices and with free delivery in the city, but also save your money. Enjoy your shopping at the online flower shop in Bangkok!
Always your, Flowers-Bangkok.com