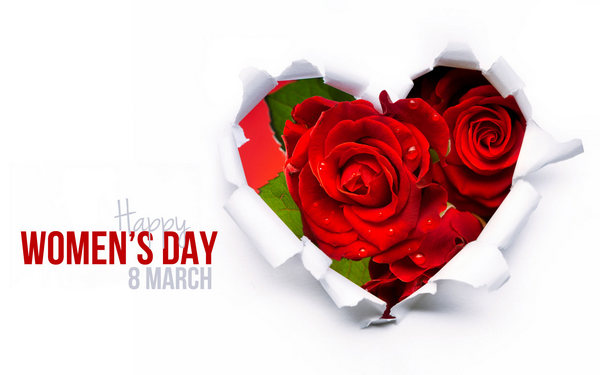 Thailand belongs to the list of countries where it is customary to celebrate March 8 – International Women's Day. Over the more than a century-old history of this holiday, its original meaning has somewhat transformed. Women have already achieved equality with men and today March 8th is simply a beautiful spring holiday in which men congratulate the most important women in their lives with bright bouquets and warm words. Unlike Mother's Day, which is annually celebrated in Thailand on August 12, it is customary to give flowers on International Women's Day not only to mothers or grandmothers, but also to sisters, as well as wives and beloved girls.
By tradition, the most popular gift on March 8 is a bouquet of fresh flowers, which Thai girls expect from their men that day. Flowers are a universal gift, because with the help of a bouquet of fresh flowers, any man is able to express exactly those feelings that he experiences. It can be a feeling of gratitude, friendship, fidelity, sympathy and warm love. So that every man can more consciously choose one or another bouquet, our flower delivery service in Bangkok gives brief recommendations on choosing particular flowers.
The queen of flowers is a rose, and it is bouquets of fresh roses that are most popular on International Women's Day in Thailand, especially when it comes to congratulating wives or beloved girls. At the same time, roses come in several colors, each of which carries a different meaning. To make it easier for you to choose the color of flowers for a bouquet on March 8, below you will find a brief description of the meaning of a particular color.
Bouquet of red roses on March 8 in Bangkok
First of all, red roses and generally red flowers are associated with a feeling of hot and passionate love. However, you can use a bouquet of red roses to show your respect and gratitude. In general, red roses or gerberas are a universal gift for loved ones whom you wish to congratulate on March 8.
Bouquet of pink roses on International Women's Day
The meaning of pink roses largely coincides with the meaning of red roses, but there are some differences. Bouquets of pink roses are more feminine and delicate, and besides a feeling of love and passion, they are suitable for the wish of happiness, health and good luck. While red roses are one way of declaring love, pink roses work well when your girlfriend already knows about your feelings and reciprocates.
Bouquets of white roses on March 8
Bouquets of white roses are used not only in wedding ceremonies, but will be a great gift for March 8. Especially in cases where you want to demonstrate your pure feelings with a bouquet of white roses. White roses are a symbol of true endless love, not temporary passion. Therefore, you can give a bouquet of white roses on International Women's Day to your wife or Thai friend, for whom you have the most serious intentions.
Bouquets of yellow flowers on March 8 in Bangkok
In a number of countries, yellow roses have long been considered a symbol of the end of a relationship and separation. But you should not be afraid that your Thai girl or wife will see such a sad meaning in yellow roses. Thailand is an Asian country, and yellow has been a symbol of happiness and prosperity for centuries. Residents of Thailand are very fond of yellow. Therefore, the bouquet of yellow roses or gerberas that we deliver to your friend on International Women's Day will be perceived by her as a wish for happiness, joy and wealth.
Orange flowers as a gift on March 8
These are probably the brightest and most festive flowers of all possible. But we advise you to use bouquets of orange roses or gerberas only in cases where your feelings and passion for the girl are mutual and you are already in a serious relationship with her. This is due to the fact that the orange color is the color of passion, arousal and sex. In other words, you should not give orange flowers to Thai girls if you are at the very beginning of a relationship or are not sure of the reciprocity of love feelings.
Bouquets of mixed roses for March 8
A great gift for International Women's Day in Bangkok is the delivery of a bouquet of mixed roses. It can be bouquets consisting of roses of 2 flowers, which perfectly complement each other in meaning. For example, in our store you can find mixed bouquets of red and white roses, which simultaneously show your passion and tenderness. Pink and white roses in one bouquet is also a great combination of flowers. And if you experience the whole gamut of emotions for your beloved girl, order a large bouquet of roses or gerberas, in which our florist will add flowers of 3 or 4 shades.
Regardless of which flower bouquet with delivery in Bangkok you order for your beloved woman on March 8, you can add your congratulations and wishes to the flowers. To do this, during the order you must fill in a special field. Adding a card with your words to the bouquet is a free additional service for all customers of Flowers-Bangkok.com, so you can use this opportunity and have no doubt that meaning of your bouquet will be misunderstood. Enjoy your shopping and happy International Women's Day for you and your beloved women!